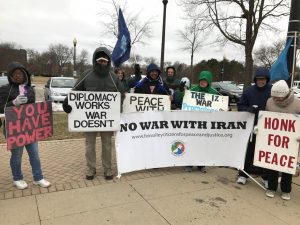 Tensions between the US and Iran remain extremely high between the US and Iran, since Trump ordered the assassination of General Qasem Soleimani, an act that brought us to the brink of war.    Such a war would be catastrophic politically, strategically, and morally.  It would kill countless innocent civilians, and would further destabilize the Middle East.  It would exacerbate the climate crisis.  It would make no sense.
So at Occupy Elgin on Saturday, January 20th, our message will be No War with Iran.  
Please join us at the corner of Kimball Street and Grove Avenue from 1 PM till 2 PM to hold signs and distribute flyers  with that clear message.   We have signs and banners.  Bring your own if you wish.