ALEC in Chicago: 10 Photographs that Tell the Story
by Harriet Rowan — August 21, 2013 – 7:07am
 Share this
The 
American Legislative Exchange Council
 (ALEC) had its 40th anniversary meeting in Chicago, Illinois, at the posh Palmer House (a Hilton Hotel) from August 7-9. ALEC claims that 1,200 people attended its meeting this year; the conventioneers included state legislators, corporate lobbyists, and right-wing operatives. ALEC was greeted by more than twice as many protestors, who came out to speak out against ALEC's regressive policies. Whether they came to protest ALEC's wage suppression agenda or its bills to voucherize public education or ALEC's deadly legacy of "Stand Your Ground" gun laws, protesters carried the message "Stand Up to ALEC."Here are some of the best images from ALEC's annual meeting, which may not make the official ALEC photo album.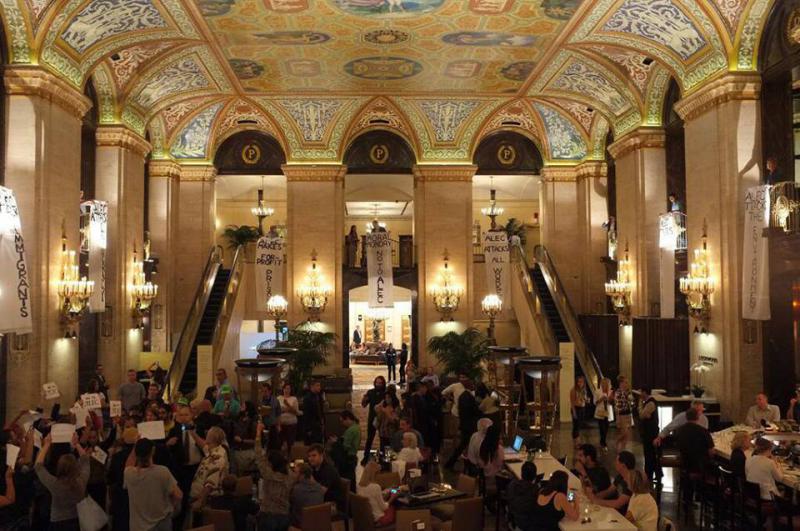 Protestors drop three banners inside the Palmer House Hilton (Source: US Uncut)
As corporate lobbyists and legislators were arriving, the Illinois Moral Monday Coalition made good use of the stunning background of the Palmer House lobby to drop simultaneously several anti-ALEC banners from the balconies. Six of the dozens of participants were arrested for their acts of civil disobedience in speaking out about ALEC.
Some of the banners read: "ALEC Makes For-Profit Prisons," "Moral Monday: No To ALEC," and "ALEC Attacks All Workers." The Chicago Moral Monday Coalition partners include: local clergy and laypeople, the Chicago Teachers Union (CTU), National Nurses United (NNU), US Uncut, Chicago Youth Climate Coalition, Chicago Fracking Working Group, Communities United Against Foreclosures and Evictions, Young People's Assembly on Violence and Youth Services Project, Southside Together Organizing for Power.
Man wearing t-shirt with "Learn the Truth, go to ALECexposed.org" (Source: Nick Surgey)
No, CMD/ALEC Exposed did not pay this man to make this terrific ALECexposed.org t-shirt, but it sure looks great! Chicago teachers are on the frontlines of the battle against privatizing public schools. Chicago saw the largest school closings in U.S. history this year. In the recent special report "ALEC at 40: Turning Back the Clock on Prosperity and Progress," CMD identified at least 139 ALEC bills in 2013 that undermine public education and advance a "cash for kids" for-profit model favored by education companies that fund ALEC.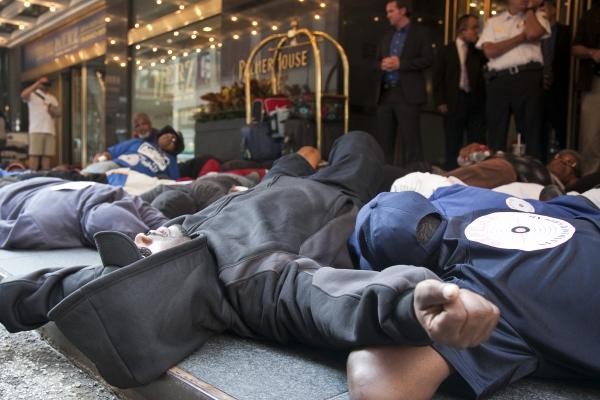 Protestors staged a die-in outside of the Palmer House Hilton where ALEC held is annual meeting (Source: Progress Illinois)
"ALEC is killing us." Stand Up Chicago, a local advocacy group working for good jobs, good pay, and strong neighborhoods, staged a "die-in" outside of the Palmer House. In commemoration of the tragic killing of Trayvon Martin, almost 100 protesters in hoodies first marched in front of the hotel chanting "no more shooting families down, let's repeal Stand Your Ground." After lying on the ground blocking access to the hotel, they jumped to their feet shouting "Stand Up to ALEC!"
As CMD was the first to document, ALEC endorsed as a "model bill" the Florida law cited initially to prevent the arrest of the George Zimmerman in the killing; that law required that the jury be instructed that Zimmerman had no duty to retreat. ALEC frequently boasted at its success in getting Stand Your Ground laws passed before Martin was shot. Since then, ALEC has done nothing to get the Stand Your Ground laws repealed.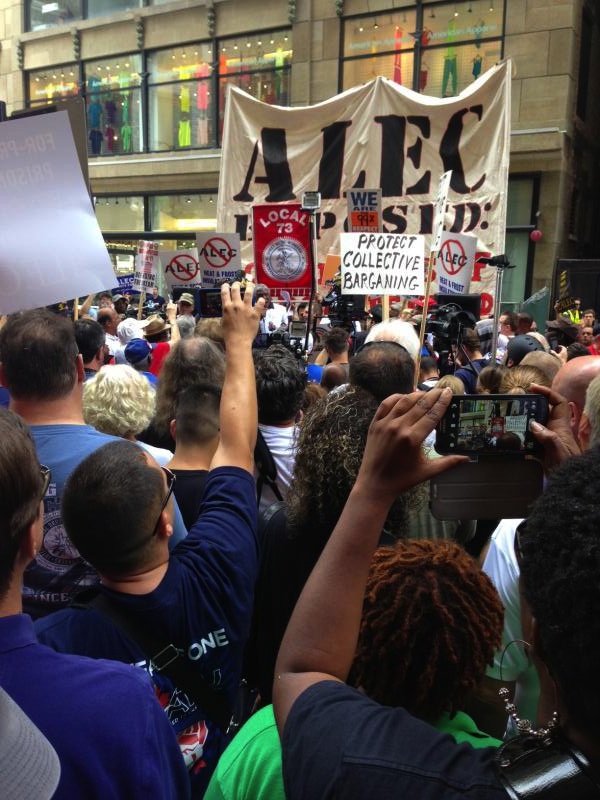 Large rally outside ALEC's annual meeting (Source: Nick Surgey)
Police estimates put the crowd outside the Palmer House at approximately 2,700, the largest protest at an ALEC meeting to date. The crowds were so large that at one point the police shut down Monroe Street to traffic.
Woman holding sign with "No ALEC: Return to Sender" (Source: Brendan Fischer)
Those who attended the protest held signs representing a wide array of issues because ALEC's lobbying agenda is so broad. CMD released a report to coincide with ALEC's annual meeting identifying at least 466 ALEC bills introduced in state legislatures in the first six months of 2013, including bills to undermine wages and worker rights, harm the environment, privatize public education, suppress the vote, promulgate "Stand Your Ground," and undermine the rights of Americans killed or injured by corporate products to hold corporations fully accountable for their harm.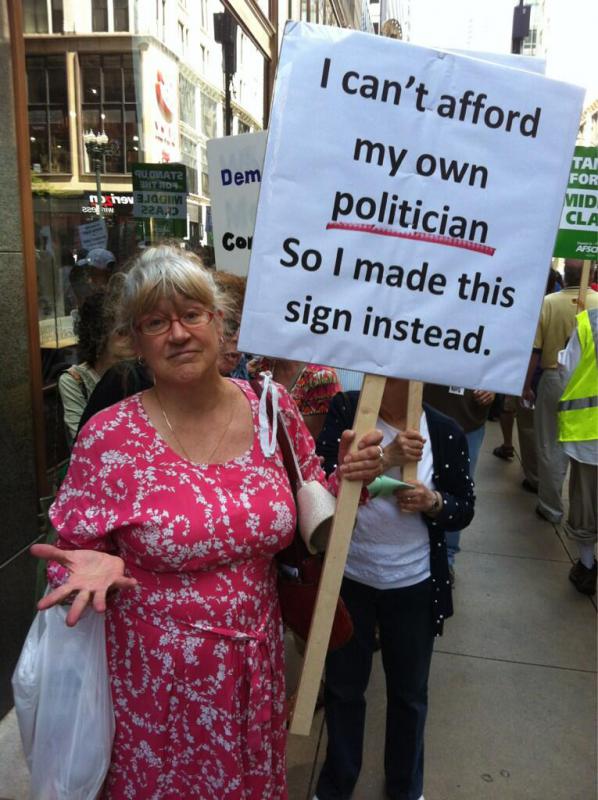 Woman holding sign "I can't afford my own politician so I made this sign instead." (Source: AFSCME Council 30)
Inside the ALEC meeting, legislators at ALEC's 40th meeting were reminded repeatedly to be appreciative of the corporations footing the bill. ALEC's private-sector chairman, C. Stevens Seale, of SAP America (a German software company), told legislators: "The private-sector members spent a lot of money to get your attention and let you hear their messages during this event."
ALEC – Amoral Lying Evil Charlatans (Source: Brendan Fischer)
A new twist on ALEC's acronym. Previously "A Legislator for Every Corporation," was a favorite of protestors.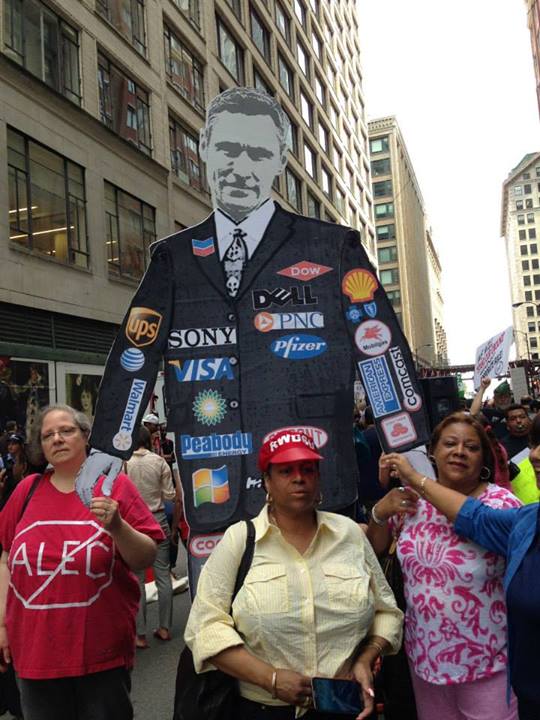 A puppet politician with corporate sponsor logos (Source: Stand Up Chicago)
These women mean business. Their puppet politician bears the logos of many ALEC current and former corporate sponsors. Click here to see a list of ALEC's corporate members and funders. Click here for a list of ALEC politician members.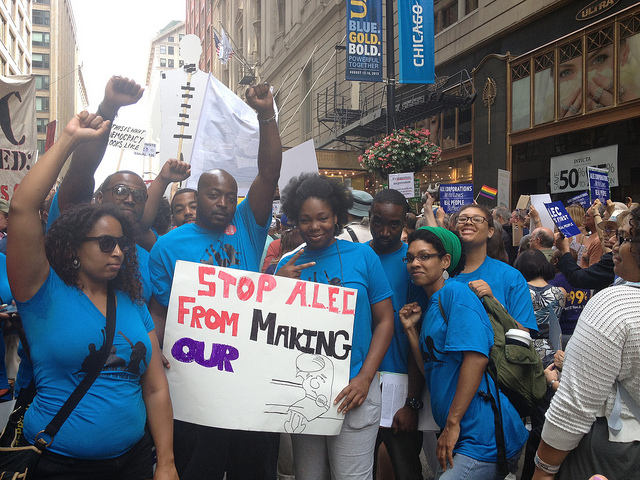 Group of young activists hold a sign "Stop ALEC From Making Our [Bills]" (Source: Cathy Sherwin)
These young activists are drawing on the classic School House Rock episode "I'm Just a Bill." Click here for Pulitzer Prize-winning cartoonist Mark Fiore's "ALEC Rock," a joint CMD video that plays off the same theme.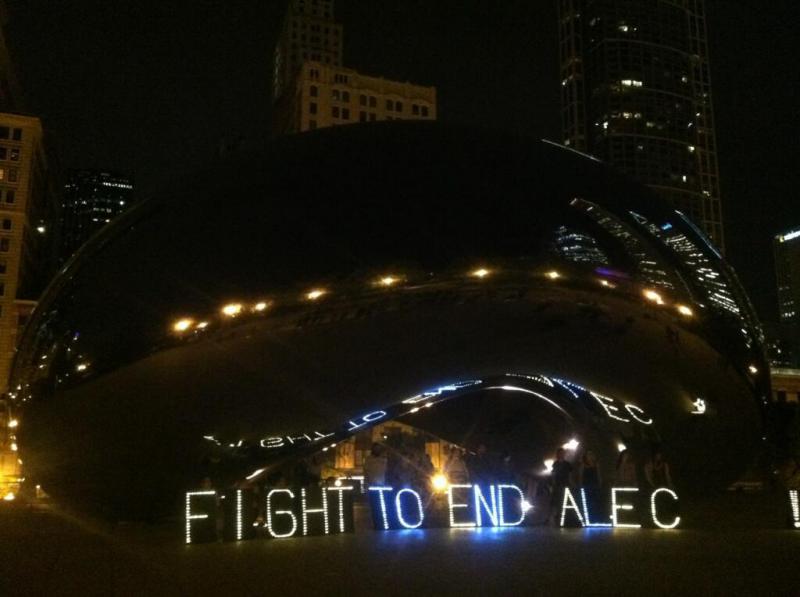 Light-up letters that spell "Fight to End ALEC" (Source: Working America)
As ALEC legislators partied with lobbyists at Chicago's Adler Planetarium, the Northern Illinois Light Brigade and the Chicago Light Brigade spelled out "Fight to End ALEC" at the famous "Cloud Gate" sculpture in nearby Millenium Park.